September 2006. A sad, sad, day. I sold the Multipla! Yes, it's true. After much going back and forth, I've decided to clean the entire collection... well almost. The Multi, as loved as it is, is going to a new owner. No regrets... yet. I think I had a great time throughout the entire affair. From finding it, to getting it home, to finding someone to help me with it (thanks by the way to all who helped!), to seeing it running and getting to drive it for the first time. Man, that was an adventure. I'm sure it will bring some good times to the new owner. I will continue to maintain this section for a while as I've been getting a good number of questions and requests for specific information. I still have my hands on additional info, so keep an eye out! This page will change from its current format, documenting my Multipla's progress, to a general Multipla information source. Hope it helps out. :)
SOLD!!
Yes, sad but true! I had to let my baby go! Read below to see all that'd been done to it and additional pictures. Click here to download the sale PDF flyer. Thanks!!
Yes, you may have seen this text on some Multipla auctions and other sites before, but this is where it comes from! By the way, no this is not a "club site," it's my own personal site documenting some of my projects. This particular page is specific to my Multipla's restoration. I hope you can use some of the information here in your own project. Good luck and enjoy!
---
Fiat 600 Multipla
Italy 1956-1966
So, what is a Fiat Multipla, you ask? Well, it's a utility vehicle, a variant of the Fiat 600, which is, itself, the Fiat 500's big (well, bigger) brother. The Multipla was available in several configurations and bodies from at least a couple of manufacturers. Mine is an early model with the 600cc engine. It has a four speed transmission and locks the transmission when the parking brake is engaged. The 600D models had a couple of additional changes including a brake that engages the rear brakes instead of the transmission.
But more on its history:
The popularity of the Fiat 600 as well as the need for a larger capacity cargo vehicle to compete and compliment vehicles like the Giardinera, gave Dante Giacosa, Fiat's Director of Engineering in the 1950s, the opportunity to expand the 600 line to include an additional vehicle with exceptional cargo space and three passenger configurations - the Multipla.
It can be said that the design of the Multipla was not an easy feat. The 600 model was in its maturity and likely to change soon and it carried its trademark rear-engine design and really posed an difficulty in providing a flat cargo-carrying floor. Space equivalent to the Belvedere was only possible by pursuing the only logical solution - moving everything to the front, including the driver area. This caused a rather ingenious driver position whereby stradling the steering column is necessary. The spare tire was moved to the front passenger section limiting leg room in that seat. The Multipla did not have a rear door but nonetheless it provided excellent rear compartment access for both passenger and cargo due to the large side doors. The passenger versions included a 6-passenger layout with three rows of seats and a 4-5 passenger version with a fold-down cargo section which could also be converted into a camping bed. The taxi version replaced the front passenger seat with additional luggage area.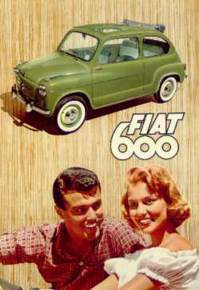 Super Compact!
Even with all its room for cargo and passengers, the Multipla was a marvel of compact design!
| | | | |
| --- | --- | --- | --- |
| | Mutipla | 500 | New Mini |
| Width | 57.1" | 56.1" | 66.5" |
| Length | 139.4" | 127.0" | 143.9" |
| Height | 62.2" | | 55.8" |
Even with all its room for cargo and passengers, the Multipla was only 12in (305mm) longer and 1in (25mm) wider than the Fiat 500! To give you an idea of its size, the Multipla is about 4'6" wide and a little over 5' tall. It's a bit over 11' long. That makes it shorter and narrower than a new Mini Cooper and just a little bit taller than one.
The most important challenge of the design, however, was to ensure that the Multipla did not lose its 600 identity, and figuring it's only 10in (254mm) longer than the 600 sedan, one can speculate that this was no easy feat. The front design was imposed by the driver's forward position. The rear design, it was decided, would be practically identical to the sedan and uses some of the same parts, including the rear suspension components. The final design, coded "110-" was ready in 1953 with the intention of beginning production in 1955. The Multipla was officially introduced in Brussels in January of 1956 to a myriad of public opinions. The Multipla's true attributes were immediately apparent and it quickly became a public favorite. It's "suicide" doors were situated immediately above the front wheel wells and allowed for an interesting entry position. Once inside, the driver gets the impression of being too far forward much like driving a small bus. The driver controls were no less peculiar, with the driver straddling the steering column. Another needed aspect of the design was the position of the spare tire, which is situated inside the cab by the co-pilot's feet.
The Power Pack - Pint-pot Motor

The Multipla uses the same 633cc rear-mounted engine as the Fiat 600 sedan. This means a water-cooled four-cylinder unit that is compact and returns good gas mileage. The cast-iron cylinder block has an integral upper crankcase and an aluminum cylinder head. The whole engine/transmission unit weighs a mere 238 lbs. With a 7.0:1 compression ratio an d a single Weber carburetor, it produces 22 bhp. In 1960, the engine was enlarged to 767cc and power went up to 32 bhp.
The rear area, by contrast, has an incredibly easy access. Used as a camper, the 5-6 passenger model could recline all seats making a nice size mattress inside. As a cargo vehicle, the rear seats fold forward to provide a flat space capable of carrying sizeable load.

MY MULTIPLA. This is the way it was the first time I saw it minus the blue tarp covering it. It had sat here for a while so it was absolutely dirty. Getting it home was an absolute adventure than involved a rented trailer, rented ratchet to pull it up on the trailer only to find the wheel track is too narrow for a regular trailer. Drive back to L.A. and hire a flatbed to transport. Absolutely worth it, though. Notice the 13" rims that it's running on (from an 850)... well, on this side. The other side had original 12" wheels. It's now much cleaner, though!

Its cab-forward design makes driving
the Multipla feel like driving a tiny bus.
Vital Statistics
| | |
| --- | --- |
| Top speed | 62 mph |
| 0-60mph | 54.0 sec. |
| Engine type | In-line four |
| Displacement | 633cc |
| Max power | 22 bhp at 4,600 rpm |
| Max torque | 29 LB-ft at 2,800 rpm |
| Weight | 1,624 lbs |
| Gas mileage | 40 mpg |
| Price | $1,598 |
Value Guide (1995)
Original price 1957: $1,598
Current value: $2,000-$8,000
Production Total: 160,260
These are 1995 prices quoted here. And by the way, I've seen how other auctions change this so these are the actual figures I had from previous literature. I've seen these prices go substantially higher in the past few years so it's good to see they're appreciating.
During its 10-year production run, a total of approximately 160,000 units were produced with some modifications throughout its model life pretty much in tune with its 600 sedan counterpart. This included a larger engine with the introduction of the 600D models as well as the same windows for the front. They also shared some mechanical components, not the least of which were the engine and transmission as well as the rear suspension. The gearbox was modified by 81mm to accomodate the longer length. Due to its increased weight, the Fiat 1100's front suspension was used.
When the laws changed in Italy requiring all vehicles to offer "normal" opening doors, the Multipla suffered its untimely demise due to its inability to change its design to accomodate the new rules. Sadly, after only 10 years, the Multipla went the way of the dodo bird. Few examples of this great car remain which makes this one extra special to yours truly.
It is generally accepted that the 1983 Dodge Caravan was the original minivan, but almost 30 years earlier Fiat had introduced the granddaddy of them all. In a masterstroke of packaging, the 600 Multipla could squeeze six passengers into a body that measured under 12 feet.
The best way to describe the Multipla is idiosyncratic. It's like no other vehicle. The driving position is similar to a VW bus - you sit upright with the wheel horizontal in front of you. The Multipla is no hare in action, and when fully loaded, the progress is slow. While roadholding is good, the handling can be tail happy if the little van is driven too fast. For all that, driving a Multipla can be great fun because it is so unique.
Forward Control
The Fiat 600 replaced the old "Topolino" Fiat in 1955, but a station wagon version was almost impossible to engineer around the rear-mounted engine. The solution was to move everything forward. The Multipla's platform is virtually identical to the 600 sedan; it has the same tiny wheelbase, but is 10 inches longer and has slightly wider front and rear treads. Naturally, there are some differences, notably to the steering gear.
Cult Minivan
It would not be unique to say that the Multipla has a cult following. It's a historic machine in one way - as the very first of the minivans - but it also has a design cuteness and a practicality that puts rivals in the shade. It's rare today, too, making it more valuable than the straight 600 sedan.
In Italy, the Multipla became an icon, a jack-of-all-trades that could act as a people carrier, small truck, taxi, camper, or regular sedan. Its styling and layout may look odd but it worked well - and at a bargain price!
'Suicide' front doors
Like many European small car designs of this area, the front doors hinge at the rear to provide better access for the driver and front passenger. The obvious safety implications of this setup led to the nickname 'suicide' doors.
Rear-mounted engine
The small four-cylinder powerplant sits at the rear of the car and is easily accessible for servicing. It is unusual in that it incorporates the transmission within it as a single unit, saving weight and complexity.
600 chassis
It may look like a mini truck, but the Multipla is based on the platform of a Fiat 600 sedan. The wheelbase and rear engine/suspension are identical, although the steering, track and front suspension are altered.
Fiat 1100 front suspension
To cope with the extra weight over the front axle, the transverse leaf spring suspension of the 600 was substituted by the coil springs and anti-roll bar from the larger 1100 sedan.
So now that you have some general information on the Multipla, here is some detail specific to my Multipla:
My Multipla
I got my Multipla early in 2005 in Southern California. I'd been looking for one for y-e-a-r-s and was lucky enough to find one that was in decent shape and better yet, I could afford. Don't get me wrong, it needed tons of work but it is a Multipla!
Here is the latest:
March 2006 update: It lives!!! As you can see from the picture above, the Multipla is back home and parked on the street! Yep, street legal and running! I've been taking it out on short rides here and there to break the engine in. It got a major overhaul including some machine work and I want to make sure everything sits in correctly. Yes, it gets tons of looks and questions. The turning radius is incredible. I had to remember not to turn the wheel too sharply because that actually had me sliding sideways in the seat. It's a funky transition to drive the Travelall and then the Multipla. The Travelall requires about a dozen turns of the steering wheel to make a turn, so when I switch to this and automatically do the same with the steering wheel, the results are quite interesting. I love it.
May 2006 update: We just took the Multipla to its first car show! No awards, but it was just fun driving it some 15 miles each way through Los Angeles. It was all good. There was a constant flow of people checking it out and a million questions.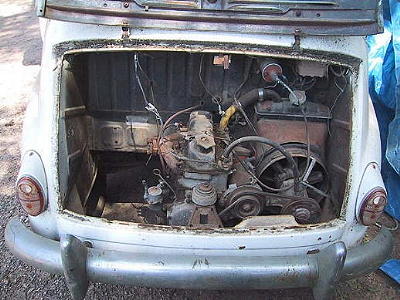 This is the engine before all the work was done. Below, it's what it looks like now. I may still do some cosmetic cleaning up once the bodywork is done. I plan to do a bare frame restoration, so we'll see what turns out. By the way, sadly the original engine was well beyond repair and it now runs on a not much newer 600 unit. Still the 600 (not D) series, with the old style coffee can air cleaner.
Engine - Wow! Sweet!!
It wasn't there when I got it! Well, it was, but was missing some parts. Condition unknown, but it turned. The carburetor was not there, and I could see water got in. No muffler, no air cleaner. Just a disaster, but I did score on a ton of parts which completed most of the engine.

Fixed! Yes, I now have before and after pictures of the engine!! Not too shabby, eh? The bottom picture is from the day I got to start the engine for the first time! I wonder how long it'd been since that happened. I'm guessing some 20 years at least, because the last paperwork I have is all dated from the early 80s. Thanks to Vittorio at Alfa Italia in Burbank.
The list of items replaced during the engine work is ex-ten-sive! Here is a small sample:

NOS muffler
NOS fuel pump
NOS piston set
All gaskets on engine
Main bearings
Rod bearings
Front and rear seals
Rebuilt the oil pump
New rotor and distributor
Rebuilt carburetor
All new hoses all around
All new cables, including choke, throttle, and starter
New clutch
Rebuilt transmission
New battery
Extensive machining to get it just right
Brakes - Fixed!!
Front passenger-side hub was locked and rusted out
Master cylinder was cracked and leaking.
Fixed! Found a NOS master cylinder, all wheel cylinders and replaced the entire thing. All new hoses, pads, cylinders, and every other incidental. It stops!
Transmission - Fixed!!
Completely rebuilt transmission. Like butter. Non-synch 4-speed. Including a new clutch!
Electrical - Fixed!!
I was having some issues with the horn but that's working now. It's very old so I may replace that if I find an original one.
Brakelights good
Headlights good and high beams good
Parking lights good
Signals good
Instrument panel lights good (dial pod, indicator lights for high-beam, signals, etc.) good
The only things that remain are the license plate light and to connect two auxiliary gauges. These work and the adapters are in the engine, but I've just not run the wires in anticipation of beginning the bodywork.
Glass - Good!
Glass is 99.9% good. There is a small pebble nick on the windshield and a small chip on the front passenger side window. I have a source for the windshield (FiatPlus.Com), so now it's just a matter of figuring out how to get it here. I bought a set of doors but they have yet to arrive! I'm starting to think they won't but I'm hoping they do. If so, the car will end up with a full set of glass all around (I'll pass these doors on to the buyer at cost if interested!) I have a full set of the rearmost side windows which will be included in the sale.
I would not mind replacing the rear brake light lenses, but have not been able to find those. They are not cracked or anything, but just a little faded from age. Update! I found a NOS set of Lucas lenses! Original Lucas L523 in red. When I replaced them, I noticed that the original lenses were amber, which was allowed at the time. I found a source for the amber lenses and may replace those at some point. For now, though, it will run with red lenses on the rear.
Tires - Good!
Tires were shot. When I got the car, it was running... well, rolling... well sitting on two 13" tires on one side and two 12" tires on the other. I did not get the 12" rims until later and I needed to move it around so I bought a set of 13" tires for it in the meantime (the rims it now sports are for the 850). I have 6 12" rims but no tires on those yet. I did not want to put tires on those until I decide on the color and put the hubcap clips on them. Besides, I've been driving the car with the 13" wheels, and I must admit that it is very comfortable with those. The ride is smooth and the tires are brand new but I am looking for a set of 12" whitewalls to eventually put in the car.

Roscoe. The face says it all. Not sure if you can see, but he's actually "wearing" his favorite toy. Some old tire which I've no idea where he got it from. Not sure why we even bother to buy him toys sometimes.
Field mouse family - Evicted!
Evicted field mouse family from battery tray. These came free with the car when I bought it, but sadly will not be included in the sale as they are gone! Get this. We have a dog, well, we have three. Roscoe, the dog in question here, was nearly poisoned in the process of the mouse eviction. Roscoe managed to get in the car, open the battery tray and eat the rat poison, which I thought I'd hid pretty well. We spent a wonderful night at the emergency vet, me sitting in a waiting room with old magazines and him getting his stomach pumped followed by a good dose of charcoal. This is the dog, mind you, that got stuck in a tree chasing a squirrel, got stuck under a fence chasing I have no idea what, somehow ended up chained at the neighbor's yard, stuck between my neighbor's and my fence, and was chasing my other neighbor's birds, so getting in trouble hunting the mice was not that surprising. Oh, he almost got stuck climbing under the engine bay to the passenger compartment in the process.
Interior - Work in progress
The Multipla had about three coats of dirt and mud on it. The seats are actually black up front, a color that I did not discover until about 1 1/2 buckets of water into the cleaning process. Right now we're in the process of trying to figure out what to do about them. I think black and white will look just right. The front seat and all panels are black and the rear seat is green. It looks like the panels were painted from their original green at some point. I will probably redo the rear seat in black as an interim solution and then, once the bodywork is done, redo the entire thing really nice.
There is no headliner and there are a few very minor dents on the roof that I need to fix before I put anything there. They can be pushed out by hand so it should be no big deal. I even thought of cannibalizing an old 600 and taking the sunroof assembly but who knows.
There is no carpet to the back part and some parts appear to be home made. I'll have to research this a bit more, but I refuse to believe Fiat used wood for some of those part but maybe if they were covered with carpet I can see how that could be.
I think I have a full set of original mats but they are in pretty dire shape. I may have to resort to carpeting the whole thing.
Bodywork - Work in progress
There is some work to do in this area. One rear door has some small dents in it and could use some attention. I found a full set of doors in excellent shape (which I've YET to see), so I may not try to monkey around with these, I'll replace them with a good set. Well, that's the current plan. We'll see how that pans out.
The roof has some minor dents that need to be worked out. Nothing major, but on closer inspection you can see them.
The rear quarter panel on the passenger side has some rust through (see picture). Nothing major again, but will need to be fixed.
The floors have some rust through. The driver side was repaired at some point but not to original specs. I found some reproduction floors in the original patterns somewhere in Germany and also on eBay, so I may bring those in when the bodywork begins.
Pillars, front, engine compartment all seem in really good shape.
I was at Tony's in Eagle Rock, where some of the brake work was done and found out he's building a body shop!! Super stoked because I trust Tony completely and know his guys will do a killer job on the body once they open for business.
CA DMV paperwork - Done!!
After about a dozen trips to DMV, it's under my name, titled, with the personalized plates, insured, etc., etc. It's a 100% street legal car!
I'm still collecting some parts for the body restoration, but now that I know that the engine, transmission, electrical, and most important DMV stuff is good to go, then I feel better about going forward on this. If you feel you must have it, please hit me up. I'm always open to entertaining offers. I can provide you with all the receipts for all the stuff that's been done to it to date and whatever else is done to it while it's with us.
Here's what's coming up:
Floor repair
Rust repair on rear passenger-side fender
Slight bodywork to roofline and other small dents on doors
Find all rubber
Replace 13" 850 wheels (what it has on), with the original 12" ones. I have 6 rims, so I'm good there.
Paint
Restore chrome items
Upholstery and carpeting