1985 Honda Elite 150 CH150 Scooter
This is a great scooter, the epitome of 80s preppy. All the panels are in excellent condition and it starts and runs flawlessly! 3200 original miles with a recent oil change. Current tags and registration and a clear title. No rips or tears on the seat, all lights work and all lenses are in excellent condition. Very, very, very minor scratches from storage and stuff, but overall a great looking bike which includes a user's manual. This scooter is ready to go!! The great thing about Southern California is that you can ride your bike almost every day of the year. The minor flaws it has is that the front headlight is not coming up and down automatically. Easy fix from what I understand, also there are two little black tabs missing on the dash. Nothing that takes away from the bike, nor does it interfere from its operation, but I really like my bikes complete! Overall, again, an excellent, excellent bike. I'm thinning my collection and recently bought this bike only because I always wanted one in the 80s and never got a chance to have one and I really wanted to own one before I cleared the scooter collection. I've now had it and loved it, but I really don't get a chance to ride much anymore. I have several others and know that this one will just sit stored somewhere, which is a shame. These bikes are becoming cult classics and hard to come by, specially in this nice a shape!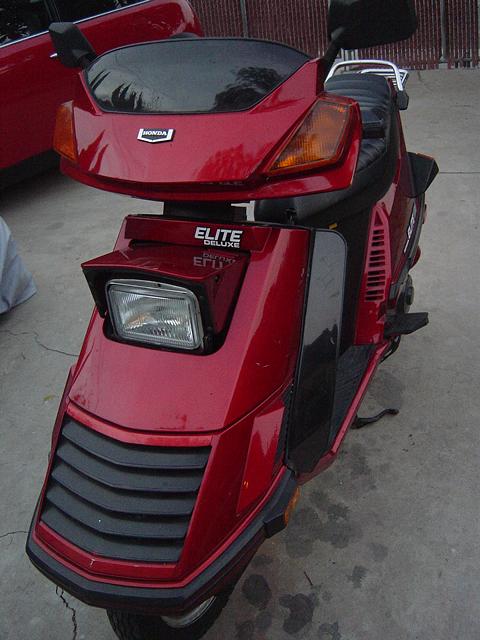 The scooter is sold as is, where is with no guarantees or warranties made or implied other than as described in here. Buyer is responsible for all shipping arrangements. I require a $500 PayPal deposit within 48 hours of auction end and full payment before vehicle is released. I'm more than happy to answer any questions you may have, but please do so before auction end. Check out my feedback for peace of mind, but you're always welcomed to come and see the bike for yourself. It's located in Los Angeles, CA (90026). Thanks in advance!