This is my Ape. It's a 1956 B-type (AB4T). It's one of the last ones with the open cab, as Piaggio switched to the closed cab models (C type) in the latter part of 1956. The bodywork and paint are done, but there are a few things missing that will have to be replaced once they are found (or can be afforded!!). In the meantime, the handlebar needs to be completed, you know, all the accelerator part, hoooking up the electrical, hooking up the front brake, and of course, all the DMV stuff to make street legal. I was hoping to have it ready for the Griffith Park Sidecar Rally, but it's going to have to wait. I still get to ride my sidecar Allstate, so it's all good.
My Ape didn't always look this nice. As a matter of fact, the picture on the left and further down are from a couple of days after I got it. I'd never seen one "in person" before, so it was interesting to go over the whole thing trying to figure out what things were. Overall, I was pretty pleased that there was no visible cancerous rust, but rather that it had held up
pretty nicely with only surface rust on it. I was amazed at the engineering. Hydraulic rear brakes, 4-speed gearbox, with a separate transmission that gives you 4-speeds in reverse too. The rear wheels are chain-driven through an enclosed chain system that also lubricates as it moves the rear wheels. Both front and rear suspension are pretty beefy for the added weight it's suppossed to carry. I'll post more technical details as the site progresses.
I bought my Ape sometime in 1999. Not sure of the exact date, but I do remember I bought it through eBay. Yes, can you believe it? A great deal too that included delivery to my house for gas money from Temecula, which is in Southern California. I live in Los Angeles, by the way. So, when I got it, I knew it had potential, but also knew that there had been others that had looked at it and walked away, so it was pretty intimidating nonetheless. To the right is the picture from the eBay ad. It lists it as a 1957, but it's really a 1956 model. I was pretty enthused until I started taking inventory of the parts missing and the actual condition of the Ape. Then it was fear, from what I recall. The good news was that the engine had excellent compression and that the transmission appeared to be working fine. The seat post has an aluminum bracket that also holds the gas tank. This bracket was brokent and the gas tank was gone. The carburator with the trick air cleaner remained, so my original thought was to try to rebuild that and find the gas tank somewhere. Also missing, was the rear bed, engine covers, brake cylinder, some aluminum floor strips, most of the speedo, part of the exhaust, flywheel cover, and on, and on, and on.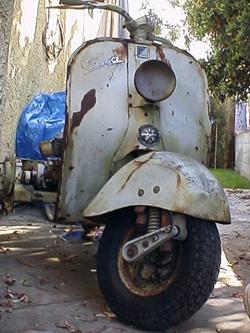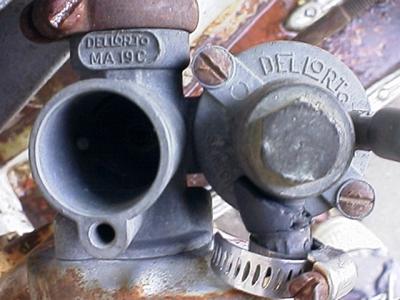 The bike sat for a few years, literally, while I began researching what it was, what else it was missing, and finding the bare minimum to see it running.

FRANKEN-APE LIVES!
Salvaged parts from everywhere, but Pat got the engine running! Check out the nifty Cushman gas tank. For a while there I thought of using that until I found one that fit. Notice, also, the vice-grips holding the gas tank in place.
BELOW
, To see the white smoke coming out, and hear that 150cc engine run, was just heaven.
Once I got enough nerve to start working on it, I took it to Pat Woolman who was able to get it running using some temporary stuff. An old Cushman gas tank provided the initial gas supply, and some old Honda throttle provided enough parts to run it for a while. But hey, I got to see the white smoke coming out of the pipe and even ride it down the street. No brakes, mind you, but when you get something like that running, you just have to try it. I swear it was like riding a bike for the first time! I drove up and down the street in front of Pat's just enjoying the sounds. No brakes, lights, license plate or anything else, mind you, but I just had to!
So, while this is going on, Stefano (apevintage.com) was hard at work trying to find me a truck bed. He worked his magic, and soon, a tilt bed was on its way from Italy. When the item arrived at Los Angeles, I thought I'd brave the customs paperwork and do it on my own - I've brought other bikes and stuff from overseas several times, but always used a broker. This time, it seemed easy enough to do it, so off I went into their offices paperwork in hand. The bill of lading, in Italian, specified the contents as vintage items. Well, actually, it was "historico" which the customs official took to mean "of historic significance." His first question to me was "do you have a museum importers permit?" WTF? I told him it was just parts of a motorcycle, but he said his paperwork stated that they were of, as stated - of historic significance and I would need either a release from the Italian government or a museum importers permit. I showed him some pictures, specifically the one below. His comment? "Is that a sculpture?" So, you can see that this was deteriorating pretty quick. I tried a few more things and as soon as I left their offices, drove to my customs broker, dropped all the paperwork on her desk and ran out. A couple of days later, I get a call from the broker, who's taken care of all the nightmare. Lesson learned was to save myself the hassle next time and just go to Karen.
Anyway, so the bed arrives (thanks, Stefano!), and it is great. I could not wait to put it on. The bike sat as it was for another year or so while I found out the best way to address all the problems with it. I tried to find the parts, but it was becoming pretty obvious, and quick, that it was going to be a rough road. I tried everybody who had anything to do with scooters. Stefano helped a ton with his Italian contacts, and he also agreed to sell me his own spare master brake cylinder. Not sure if you know, but Apes have hydraulic rear brakes, a completely different brake system from your regular vintage Vespa. The brake pedal actually goes through the center tunnel in the scooter-looking part of the bike to pull a rod that goes to the master cylinder. That was missing too, by the way.
Finally, I decided to just bite the bullet and get going with it. It was time to get the bodywork and paint going so off to Joel's Dolly and Hammer it went. Bodywork was surprisingly pretty minimal. There was literally zero rust throughout the body or the bed, but there were some pieces that had to be fabricated. As I mentioned there is an aluminum bracket that holds the gas tank and seat in place. This was broken at some point in its life
and some repairs were needed. The gas tank was also missing so it's currently using one that looks a lot like the original, but not so. Joel did a great job in doing all the odds and ends and all done with as much effort as if it were his own bike. Thanks, Joel!
So right now, the bike's at home. There were a few things that's been done to it, like a new carburetor set up and other miscellaneous things. I drove it up and down the street and it was fun. That thing is a monster! You expect a certain feel and handling given that it's essentially a Vespa scooter up front, but the weight and handling really surprises. Another great bike.